5th Birthday Dresses & Outfits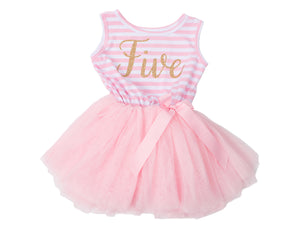 5th Birthday Dress - Striped...
5th Birthday Dress - Striped (Sleeveless) - Comes in pink, aqua, black, and purple.  Because every girl deserves stripes on her fifth birthday! Our fresh new striped 5th birthday dress...
$ 35.00
Sale
Regular price
$ 37.00
Grace & Lucille offers 5th birthday dresses in a variety of colors, patterns, and styles. Shop our variety of floral, striped and polka dot fifth birthday dresses. We pay attention to the little details, so you don't have to. We want to make sure the tulle skirt is full, soft, lush, durable, and perfect for your party princess to move in. Our pure cotton knit tops with spandex are made for unrestricted movement and maximum comfort. We want your girl to not only look like a princess but feel like one too!

We offer sleeveless and long sleeve 5th birthday dresses and ship all over the United States. If you see a style you love and are not finding it in the sleeve length you desire, reach out to us. We are happy to help and get it shipped directly to you, for the big celebration. Look for our exclusive G&L circle logo at the nape of the garment to ensure you are getting the real deal. Create a lifetime of memories to cherish with our celebration apparel.  
Fantastic at FIVE! 5 years old and she is showing her independence! Now that she's five she will be ready for big-girl parties! Get her a 5th birthday dress she can proudly wear! Our adorable 5th birthday dresses are machine washable and the glitter is a specially designed shed-proof formula! Your little girl can be the diva she was born to be without causing you any distress about keeping her (and the house) clean!
Grace and Lucille is proud to grant your little girl's wish of standing out and being a queen at her own birthday party! We have all her favorite colors to choose from. We have purple 5th birthday dresses, blue 5th birthday dresses, pink 5th birthday dresses, mermaid 5th birthday dresses, and floral 5th birthday dresses. We even have options you can personalize with her name and her age. Shop our dress line and find the perfect 5th birthday dress to customize with your little girls name and age! Does your daughter love tutus like so many little girls? Then this is the dress line for you! Grace and Lucille offers 5th birthday dresses with matching tutus!
Your little girl will look so adorable in her 5th birthday outfit from Grace and Lucille. Treat her to a style that makes her special day stand out in photos and memories for the whole family. These memories are ones you'll share for years and years to come. Everyone will love looking back on the special days and you'll wonder where the time went. Children grow up so fast; don't miss an opportunity to make a special memory. There are many lovely colors of 5th Birthday outfits for girls to choose from; pick a pretty one today. Your 5-year-old will be the best dressed in her 5th birthday outfit. We've had 26,000 happy little girls love their dresses from Grace and Lucille! Everyone on the block will be so jealous of how adorable your little girl looks in her 5th birthday dress from Grace and Lucille. We recommend going all out for her 5th birthday! She'll only turn 5 once! Check out our website and order yours today!